UPCOMING HAIR CUTTING WORKSHOPS IN NYC OR WATCH US LIVE ON ZOOM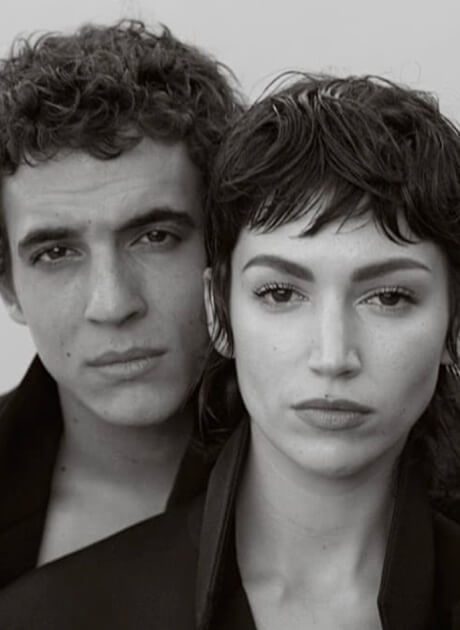 New York City 
SHORT HAIR/ PIXIE DYNAMICS  
WORKSHOP
Sunday Jan 10th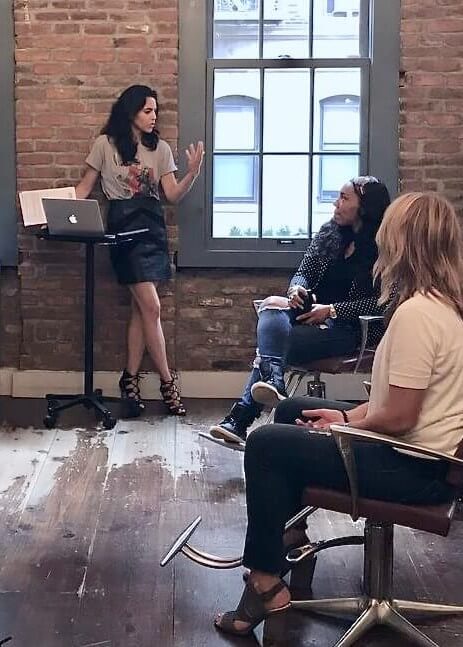 New York City
TRADE
SECRETS
WORKSHOP
Sunday Jan 31th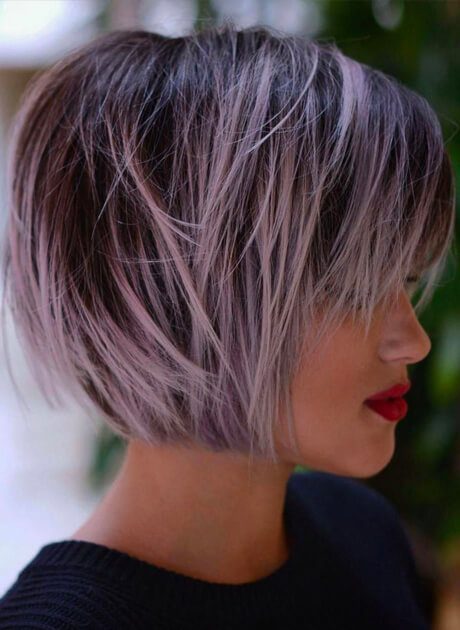 New York City
PERFECT THE
LAYERED BOB
WORKSHOP
Sunday Feb 21th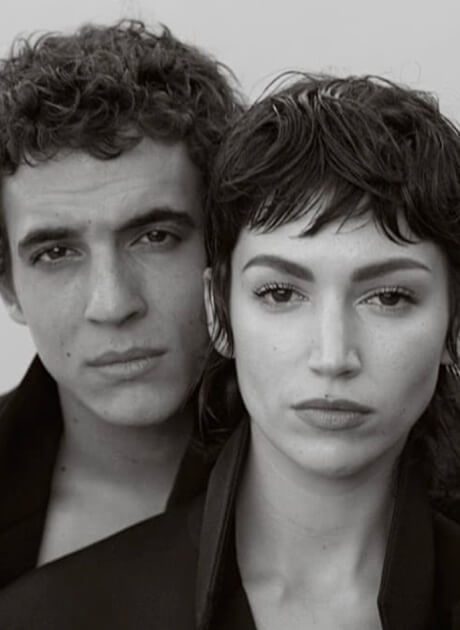 SHORT PIXIE HAIRCUTS
HAIR CUTTING WORKSHOP
Focus on understanding Growth Patterns, how to create shape and form, and round graduation techniques used for short haircuts.

Sunday JAN 10rd, 2021 from 11AM – 5PM
James Corbett Studio, 25 W 19th st, New York.
The Consultation: Learn how to consult the right way, with authority and expertise. Consulting builds trust and rapport between the stylist and the client. It is key to assert yourself and come from a place of confidence. One happy client can refer at least ten new ones.
Step-by-Step Demonstration by Laara Raynier: During this haircut, Raynier will zero-in on the face shape, bone structure & suitability of the client. Emphasis will be on how to read, understand and work with growth patterns, which are key when cutting short hair. Layering and round graduation techniques create the shape and form of a short haircut.
Actual Hands-on Hair cutting: In this group workshop you will get individual attention from Laara Raynier and learn how to create the shape, form, and texture of a short haircut on LIVE MODELS. You'll bring out the best features in your clients' face, using round graduation, layering and point-cutting techniques, this creates an edgy, modern, hip look, working with the hair in its natural state. Plus, styling & finishing techniques!
Laara personally hand-picks the models for you.

HANDS-ON WITH ONE LIVE MODEL –

$375
OBSERVATION ONLY –

 $150

LIVE ON ZOOM DEMO ONLY –

 $99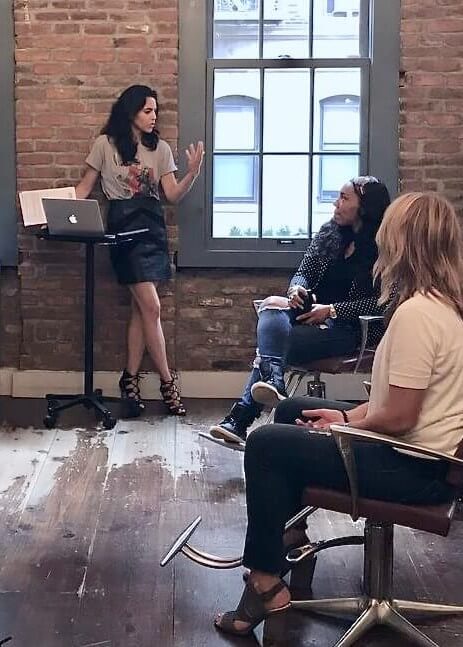 TRADE SECRETS
Sunday JAN 31th  9:30 AM – 6 PM
James Corbett Studio, 25 W 19th st, New York.
FOCUS:
TWO (2) step-by-step hands-on haircuts on LIVE models with Raynier
Hands-on haircutting coaching with Laara Raynier & Carollyne Bayler
TRAIN YOUR EYE with our amazing "Before/After" technique
Receive immediate evaluation with constructive feedback after each haircut from Laara Raynier & Carollyne Bayler
How you present yourself to the clients: your image, your state of mind, and your style
See and visualize what you want. Start off the day in a peak state with our priming technique
Create and Define your goals
Master our consultation strategy
Master our amazing blow dry and styling technique
Gain massive confidence
Digital before & after photos for your portfolio.
A signed certificate
OVERVIEW:
Trade Secrets is a unique experience, there is nothing even comparable to it anywhere!!! Designed and created by Laara Raynier and Carollyne, lifestyle coach and business consultant, it is the only haircutting/business workshop in the world that incorporates haircutting, business, motivation, inspiration, and everything you need to be the best you can be.
This intensive 1 DAY is designed to properly prepare you to master the skills you need to elevate your career and business to the highest level. It is the perfect investment If you are ready to learn and master the strategies to help you grow your business and stay extremely competitive.This is your opportunity to get the proper tools to be successful in this amazing career.
Join and participate in an interactive live haircutting workshop like no other in the industry where you will get to experience one full day of immersion into techniques and personal growth. A day filled with powerful exercises, discovery, and empowerment for yourself and your business.
Laara personally hand-picks the models for you.
HANDS-ON WITH ONE LIVE MODEL

$650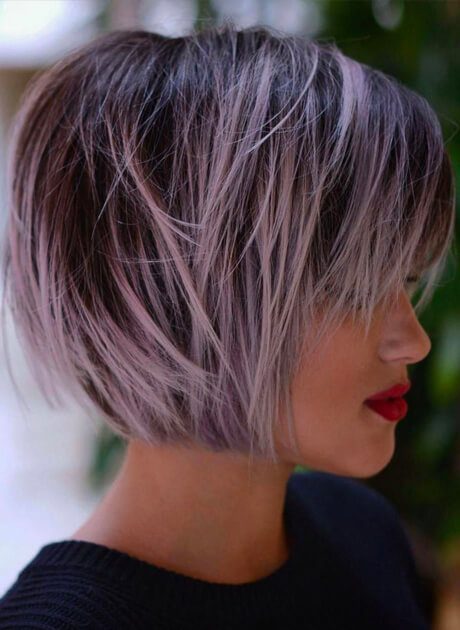 PERFECT THE LAYERED BOB 
This hair cutting workshop focuses on blending, layering and texturizing the Face-Frame Made Simple + Our Amazing Blow-Dry Technique.
Sunday Feb 21th 2021 from 11AM – 5PM
James Corbett Studio, 25 W 19th st, New York.
Morning Session
The Consultation: Learn Laara's philosophy, how to communicate to establish that you are an expert with an amazing eye for what will suit the client. This in turn, will build trust and rapport.

Live Hair Cutting Demonstration

of a Long Layered haircut by Laara Raynier.
Afternoon Session
Practice our con

sultation technique

to build trust, learn how to make suggestions and zero in on what would look best and suit your client.

Practice a Hands on long layered haircut

using our amazing layering, blending and texturizing techniques on a LIVE MODEL, including our incredible blow dry with Laara Raynier
Laara personally hand-picks the models for you.
HANDS-ON WITH ONE LIVE MODEL –

$300 (Was

$375) 
OBSERVATION ONLY –

$100 (Was $150)
OUR HAIR CUTTING WORKSHOPS INCLUDE:
THE CONSULTATION: is a very important part of the haircut and will determine what will suit your client and build a strong rapport

How to develop an artistic & creative eye using our TRAIN YOUR EYE technique

How to identify growth patterns and work with them

How to cut a precision bob with a perfectly clean, sharp line, using and understanding tension, face-shape and determining where to cut the line

How to cut all textures of hair—curly, straight, fine, and thick

How to graduate, blend, layer, and texturize hair

How to cut a short edgy haircut using round graduation and layering technique
Men's hair. Classic scissor over comb and barbering techniques

Body positioning. Where and how to stand

The 5 day blow dry with styling techniques that leave the hair polished & shining

The Mason Pearson blow dry. How to create sleek, smooth, shiny hair with swing

Professional & specific tools, products & brushes that are essential to your kit

How to build and increase your clientele

Image consulting, hair, makeup, clothing, style

The art of layering hair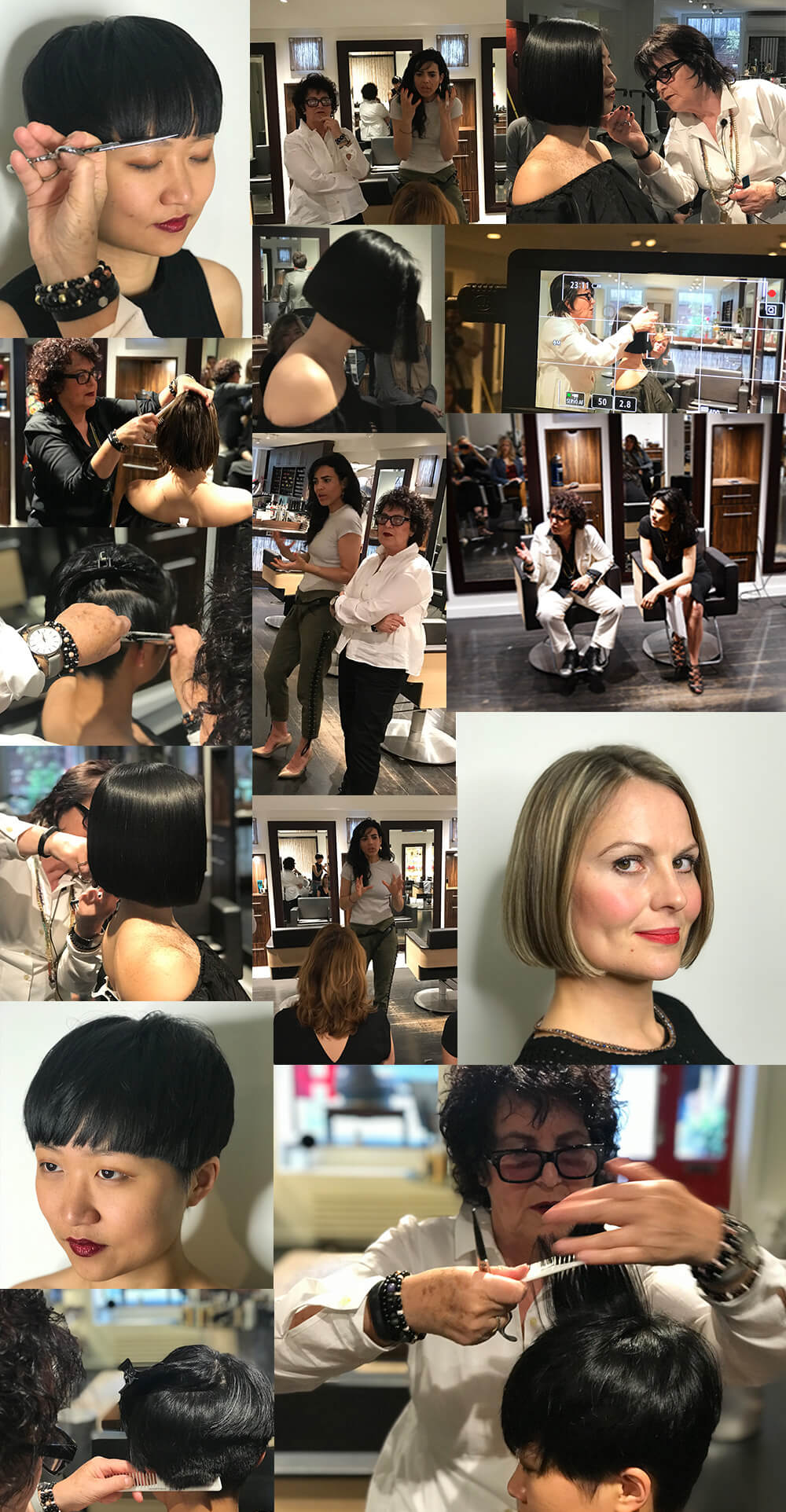 We believe in only using REAL PEOPLE as our models.
GO BEYOND your typical mannequin, artificial haircut training.
OUR AMAZING 'TRADE SECRETS' WORKSHOP TESTIMONIALS